Cassava starch equipment
Cassava is one of the three major potato (cassava, sweet potato and potato) in the world. The processing products of cassava include starch, alcohol, denatured starch, starch sugar, organic acid and other deep processing products, among which starch is the most basic and important processing product of cassava. Worldwide annual production of starch has more than quadrupled over the past 20 years, from just over 7 million tons in the mid-1970s to more than 18 million tons in the mid-1980s and 20 million tons in the early 1990s to more than 30 million tons today.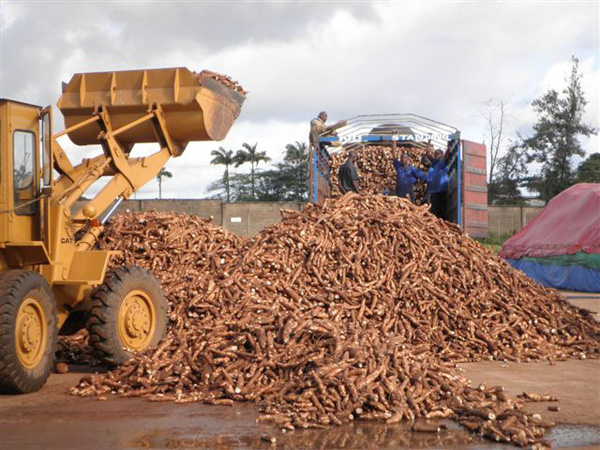 Cassava transportation
To process cassava into starch, cassava starch equipment plays the role in the quality of final starch. Doing Company as a professional starch processing machine manufacturer, our equipment features with low power & water consumption, easy installation and maintenance, high starch extraction rate and well matched motor configuration.
The following is the main cassava starch equipment used for cassava starch production
1.Cassava cleaning equipment: Dry sieve is widely adopted for impurities removal for starch production which can effectively remove dirt, sand, small stone, weed, leaves and other foreign matters attached on cassava roots. Designed with multiple inner spirals, this cassava starch equipment can achieve cleaning process when pushing material forward. Reasonable rotate speed of dry sieve can not only ensure smooth running, but also prevent material from damage.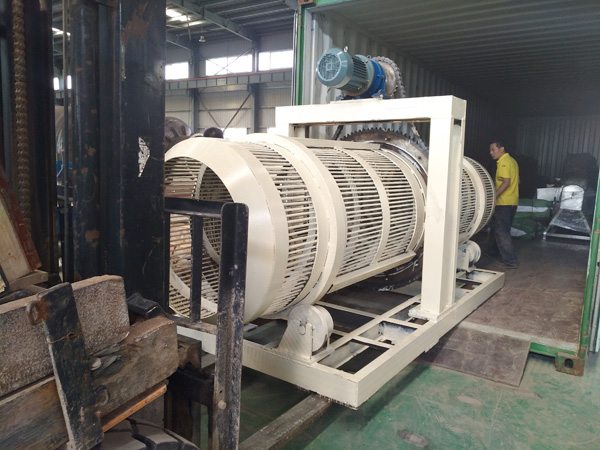 Cassava cleaning machine
2.Cassava washing equipment: Paddle washing machine is widely used cassava starch equipment for washing process. Reasonable feeding and combination arrangement ensure proper distribution of workshop. Besides, this equipment adopts countercurrent washing principle which can eliminate sand, mud and other impurities thoroughly and effectively. Besides, the stable operation and low material damage can improve starch extraction rate.
3. Cassava grating equipment: The function of this cassava grating equipment is to grate cassava to break the structure of cassava so that the small starch granule can be released. As professional starch processing equipment supplier, Doing Company use rasper for grating. This cassava starch equipment features with compact structure, high speed, high grating coefficient, even particles and high extraction rate. It introduce Germany Optibelt and Sweden SKF bearing, which is an achievements of Doing Company.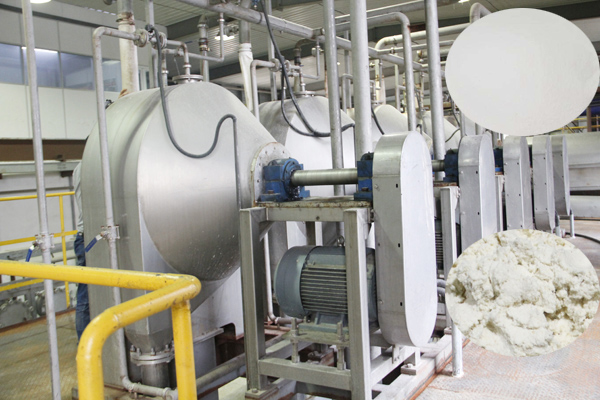 Cassava starch separating machine
4. Fiber separation equipment: There are two machines are needed for fiber separation process: centrifuge sieve and fine fiber sieve. The parts contact material parts of these cassava starch equipment are made of stainless steel which can effectively prevent material from polluting so as to ensure the high quality of final starch. Besides, both of these two equipment are equipped with automatic front and back washing system which protect screen from blocking.
5.Starch refining hydrocyclone: Hycrocyclone station is a cassava starch equipment used for removing fiber, protein, and cell sap of starch slurry to achieve the concentration, refining, recovering and delicate scrubbing starch milk. The hydrocyclone pipe is made from material of strengthened nylon which is sturdy and durable. What's more, the internal structure is computer designed which is elegant and compact.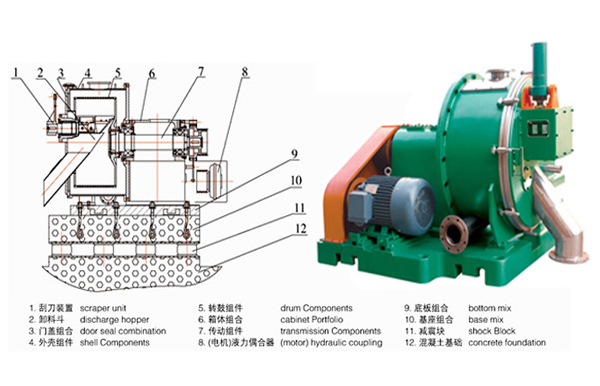 Peeler centrifuge
6.Starch dewatering equipment: Peeler centrifuge is the extensively used cassava starch equipment for dewatering. It can realize automatic control and auto scraper unload. Siphon type peeler centrifuge is a more efficient one which can not only improve productivity by 50%, but also can effectively decrease moisture content to 36.5%.
7. Starch drying and packing equipment: Flash dryer applies to various kind of starch drying which is suitable for drying of heat sensitive power or flake materials that need fast drying. Adopting negative pressure drying system, this cassava starch equipment can effectively avoid the loss of starch, meanwhile, it can purify environment of working site. What's more, this flash dryer features with high heat exchange rate and short drying time. Finally, the end products will be packed by semi-automatic packing equipment for warehousing or marketing. This cassava starch equipment features with high working efficient, labor saving and small footprint.
Product
Contact
Cel/WhatsApp: +8613526615783
Phone: +86 371 5677 1822

E-mail:

market@doingmachinery.com

Address: Room 1408,14th Floor,Building 9,No.133 Yaozhai Road,Jinshui District,Zhengzhou City,Henan Province,China
Online Chat