15 TPH tapioca slicer making line is shipped to Logos, Nigeria
On date of Apr. 25th 2022, one set 15 TPH tapioca slicer making line is shipped to Logos, Nigeria form Henan China Jinrui company. These tapioca slicer making machines are now shipping on the way to Nigeria.
The tapioca slicer making line ordered by the Nigerian client includes tapioca washing machine and tapioca slicer machine which are the hot sale tapioca making machines of Henan Jinrui company and have been sold for more than 10 years.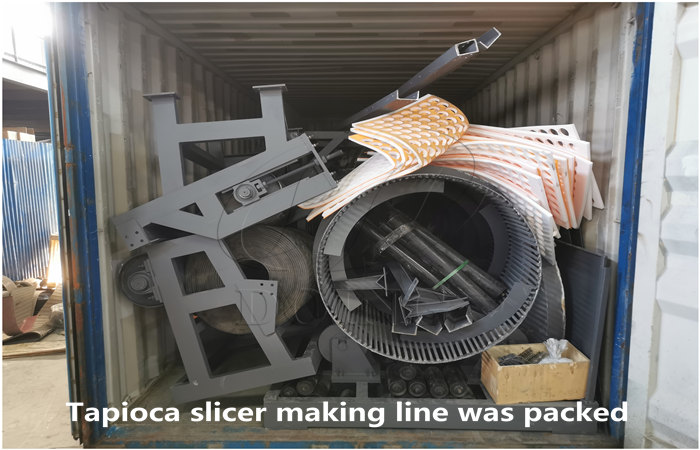 Tapioca slicer making line was packed
This client form Logos, Nigeria attached much attention to the tapioca slicer making machines' quality and the overseas warehouse in Nigeria. After knowing details about these two aspects about Henan Jinrui company, The Nigeria client shows his gratification of us. Thus, he decided to purchase this tapioca slicer making line from Henan Jinrui company.
At about 45 days, the Nigerian client's tapioca slicer making machines are finished production. And through engineers of Henan Jinrui's test and the client check, this set of tapioca slicer making machines now can be shipped to the Logos, Nigeria.
Henan Jinrui company wishes that the Nigerian client receive his tapioca slicer making machine as soon as possible. And if you also want to get this tapioca making machine, please feel free to contact us by e-mail, phone or whatsapp and leave message on the website.
Product
Contact
Cel/WhatsApp: +8613526615783
Phone: +86 371 5677 1822

E-mail:

market@doingmachinery.com

Address: Room 1408,14th Floor,Building 9,No.133 Yaozhai Road,Jinshui District,Zhengzhou City,Henan Province,China
Online Chat