Starch drying machine sales to Ukraine
In July, 2017, Henan Doing Machinery delivered starch drying machine to our client from Ukraine. Here is the photo of starch drying machine loading and delivery: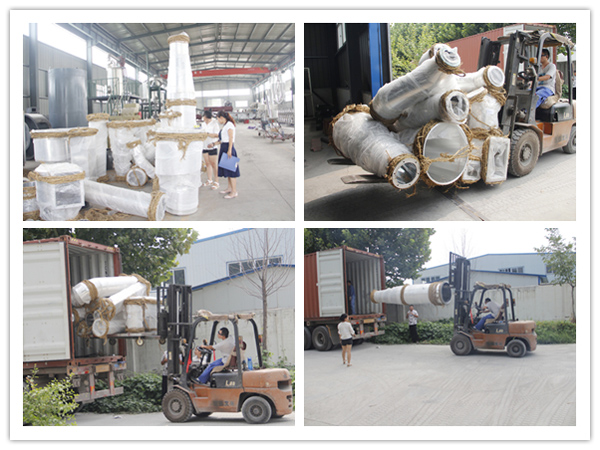 This Ukraine client has his own cassava starch processing plant, but the starch drying equipment is drying tunnel.But due to the production capacity of this machine can not match the capacity of the whole production line, he decides to order a new starch drying machine. Through our website, he knows that we have the high efficient and large capacity drying machine - flash dryer. By communicating with our sales manager, he decides to visit our factory to have a look of the starch drying machine.
In the company of DOING sales manager and engineer, he has a better understand to our equipment and comprehensive strength of Doing Company. He is satisfied with the machine, and after confirm all the details , he sign the contracts with us the same day. And according to his special requirements, all parts of this starch drying machine is made of stainless steel material.
Starch drying machine
The advantages of DOING starch drying machine:
1.Large drying strength: the flash dryer has the largest processing capacity, and the evaporation water capacity is from 50kg/h to 2000kg/h, while the equipment volume is small and the investment is small, which is unmatched by other drying equipment.
2. High degree of automation and good product quality: the drying materials are all carried out in the pipeline of starch drying machine, and the drying time is extremely short (only 0.5-2 seconds). Therefore, automation can be achieved. Besides, the product is not in contact with the outside environment which prevent starch from the pollution, thus ensures high quality of products.
3. Complete supply of equipment: The basic type starch drying machine consists of air filter, heater, feeder, drying tube, fan and cyclone separator. Users can add dust collectors or other auxiliary equipment as needed.
4. Free choice of heat source: the starch drying machine has greater adaptability. Users can choose steam, electricity, heat transfer oil and hot air stove to heat according to the conditions in different area.
5. Wide range of applications:Suitable for cassava starch production line, cassava flour production line, potato and sweet potato starch production line.
Product
Contact
Cel/WhatsApp: +8613526615783
Phone: +86 371 5677 1822

E-mail:

market@doingmachinery.com

Address: Room 1408,14th Floor,Building 9,No.133 Yaozhai Road,Jinshui District,Zhengzhou City,Henan Province,China
Online Chat