Pakistan customers visit DOING cassava starch machinery
In March 2017, two customers from Pakistan came to DOING for visiting cassava starch machinery. They wanted to invest in the cassava starch processing plant project in Nigeria.Here are the photos of DOING sales manager and customers: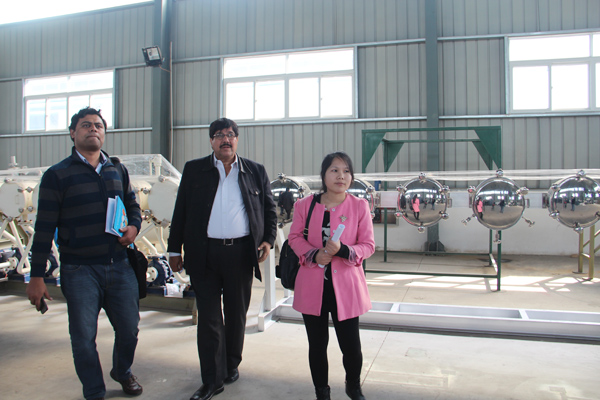 Although these two customers have not had experience in cassava processing before, they are aware of the cassava market in Nigeria and know that although Nigeria is the world's largest cassava producer, the cassava processing industry, especially cassava starch processing is still in its infancy. Nigeria lacks the corresponding cassava starch machinery for cassava processing. They compared many manufacturers, including manufacturers in China and other countries. In the end, they chose Chinese manufacturers because of their excellent performance and best price advantage. Doing Company has become the first choice for customers as a Chinese cassava starch machinery manufacturer with experience and technology as well as its own processing factory.

DOING cassava starch machinery
Customers contact our sales manager through whatsapp and email to get an idea of our cassava starch machinery. They are very interested in our equipment, so they decided to visit our company to see the strength of Doing Company. The customers first came to our company, and our engineers once again introduced them to the processing process of cassava starch in detail, and our sales manager shows the customers with our past installation cases, equipment operation video, after that the customers have more confidence in our cassava starch machinery. After visited the factory, the customer is more determined to cooperate with us.
As a manufacturer of cassava deep processing equipment, DOING cassava starch machinery is not only cost-effective, but also easy to operate and maintain, with good equipment quality and low maintenance costs. If you are interested in cassava processing business, please contact us.
Product
Contact
Cel/WhatsApp: +8613526615783
Phone: +86 371 5677 1822

E-mail:

market@doingmachinery.com

Address: Room 1408,14th Floor,Building 9,No.133 Yaozhai Road,Jinshui District,Zhengzhou City,Henan Province,China
Online Chat