Process analysis of cassava starch production in Ghana
Cassava is the most important root crop in Ghana. Apart from being a staple food in both rural and urban households, cassava is also a major source of income to cassava farmers and processors in the rural areas. Cassava alone contributes about 22% of agricultural GDP in Ghana for food or domestic purposes but its industrial processing and utilization has been very limited. There is the great potential of high quality cassava starch replacing imported food item like wheat flour, which is used in bakery products and as extenders in glue for plywood and paperboard manufacturing in Ghana. Past and on-going research carried out by Food Research Institute (FRI) of Ghana and the Forest Research Institute of Ghana (FORIG) has proved that it is feasible to produce high quality cassava starch as a substitute for the above industrial purposes. Therefore cassava starch production in Ghana is promising.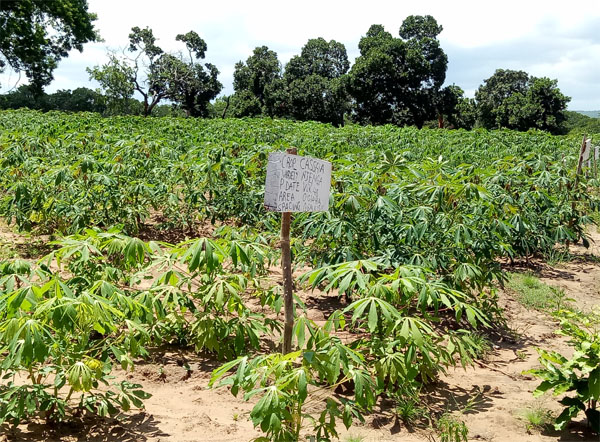 Cassava farm in Ghana
Problems of cassava production in Ghana
Though Ghana is the third largest producer of cassava in Africa and the sixth largest in the world, cassava starch production in Ghana had not received enough attention in the past years. It is said that more than 45 percent of the harvested cassava was wasted in subsequent processing. William manu, executive director of the Ghana cassava center, said Ghana imports a lot of ethanol and medicinal starch every year, and that would change if the cassava starch industry chain received enough attention.
Here is the process for cassava starch production in Ghana
1.Cleaning and washing: The main purpose of cleaning is to remove sediment from the outer layer of cassava and to wash away the sand, dirt, soil and cuticle of the cassava root . Though simple in theory, this process plays a important role in the subsequent processing for cassava starch production in Ghana.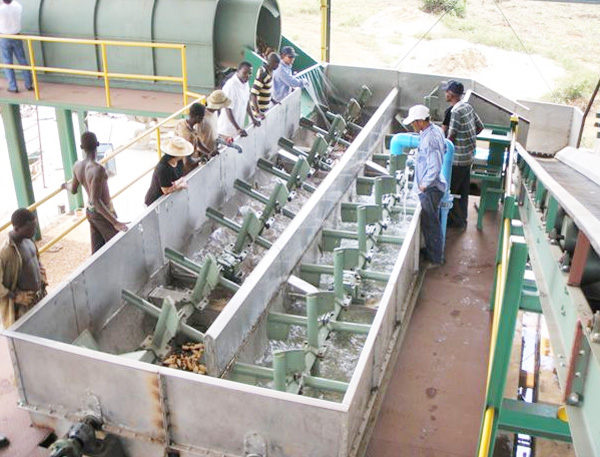 Cassava washing machine
2.Grating: This is the most important process for cassava starch production for it determines the starch yield. In the traditional cassava starch production in Ghana, the hammer crusher is used for grating. But due to the long shape of cassava roots, it is hard to grate cassava fully to release starch which lead to the low extraction rate of cassava starch, and the production efficiency will also be decreased. Rasper is a high efficient cassava grating machine with a cassava breaking rate more than 94%. Doing Company rasper is designed and manufactured on the basis of international advanced technology.
3. Screening: For cassava starch production in Ghana, screening and washing process is the key to high starch recovery for starch. And the advanced technology for this process adopts multi-stage centrifugal sieve and fine fiber sieve to achieve the separation of fiber and starch. Doing Company can also design machine according to requirements.
4.Starch slurry concentration and refining: For cassava starch production in Ghana, this process is to separate insoluble protein, residual soluble protein and other impurities from starch slurry, so as to achieve the purpose of washing, refining and concentration of starch milk. At present, hydrocyclone station is widely used for this purpose.
Cassava starch dehydrating machine
5.Dehydrating: Due to the starch milk contains a lot of water, it must be dehydrated for cassava starch production in Ghana. At present, peeler centrifuge is often used for dehydrating. The moisture content of wet starch is required to be 38% lower after dehydration.
6.Drying: The dehydrated starch is transported to the flash dryer for drying. For cassava starch production in Ghana, it is required that the water content of starch product is about 13.5% through drying.
This is the introduction of cassava starch production in Ghana. Doing Company is a enterprise specializing in design and manufacturer complete set cassava starch machine, we can provide complete service from project consultation, process design, automatic control system design, equipment manufacturing, installation, debugging, technical training to production line after-sale service turnkey project.At present, our cassava processing machine have sold to different counties, such as, Cambodia, India, Indonesia, Nigeria, South Africa, Uzbekistan, Syria, Russia, Bulgaria, Algeria, Bangladesh, Pakistan, Vietnam, Thailand, Mongolia, etc.
Product
Contact
Cel/WhatsApp: +8613526615783
Phone: +86 371 5677 1822

E-mail:

market@doingmachinery.com

Address: Room 1408,14th Floor,Building 9,No.133 Yaozhai Road,Jinshui District,Zhengzhou City,Henan Province,China
Online Chat