What machines will be used to remove impurities of cassava in cassava starch production line?
Cassava after harvesting will be mixed with a lot of impurities, such as dirt, sand, small stones, weeds and other impurities. If these impurities are not removed, it will not only cause loss to the grinding equipment and crushing equipment in cassava starch equipment and shorten the service life of the equipment, but also greatly reduce the quality and purity of cassava starch. Therefore, cleaning section is the first step in the cassava starch production line to remove those impurities on the surface of cassava. Then what machines will be used to remove impurities of cassava in cassava starch production line? This article will tell you the answer.
Cassava starch production line and processing plant
Dry Sieve
In the cleaning section of cassava starch production line, dry sieve is the first cleaning machine.This equipment is widely used, not only in cassava starch production line, but also in potato starch production line, sweet potato starch production line. It can effectively remove soil, sand grains, small stones, weeds and other impurities on cassava, potato, sweet potato and other materials.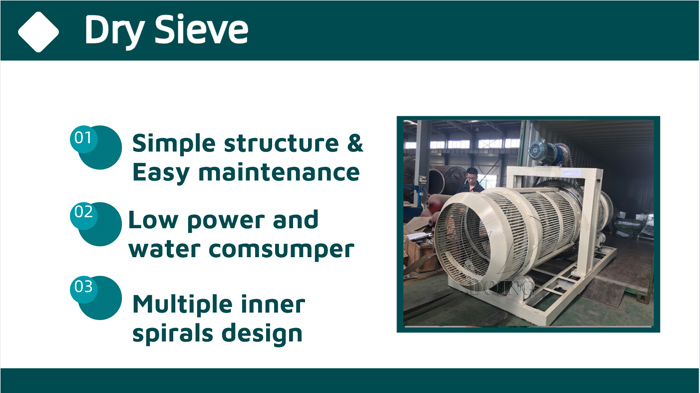 Cassava starch cleaning machine
Dry sieve made by DoingHoldings-HenanJinruiFoodEngineeringCo.,Ltd adopts multiple inner spirals design to push cassava moving forward. In addition, according to cassava features, our company can adjusted appropriate parameters design of this machine. The structure of dry sieve is simple and easy to maintain. Also, this machine has this feature of low power and water consumption. During the running of machine, the machine runs at a reasonable rotation speed , thus making cassava free of damage and avoiding loss of starch.
Paddle Washing Machine
After the cassava is cleaned by dry sieve, most of the impurities will be removed. But other impurities such as mud, sand may not be completely eliminated, so cassava need to be cleaned again in the paddle washing machine. Paddle washing machine is mainly used in the production of starch and cassava flour for washing cassava and other raw material. This machine adopts countercurrent washing principle. Cassava is pumped into the paddle washing machine in the opposite direction of the water flow. During counter-current running of water and cassava, the paddle and cassava against each other to remove impurities, such as mud and sand attached to cassava.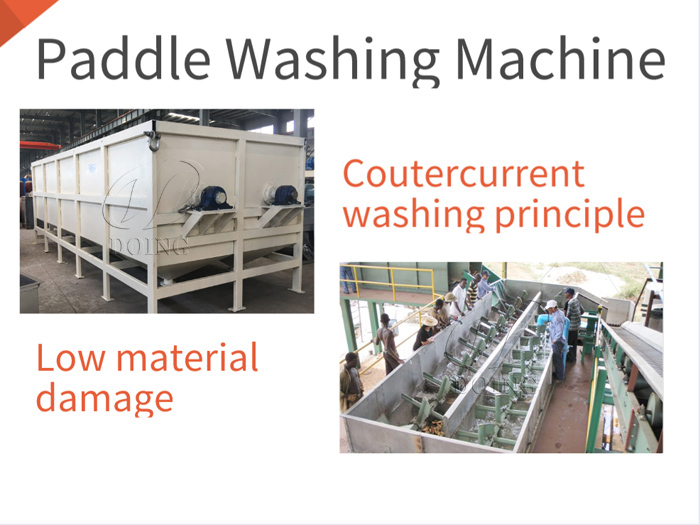 Paddle washing machine
DoingHoldings-HenanJinruiFoodEngineeringCo.,Ltd is very professional in the manufacture of cassava starch processing equipment. The machines are not only high in quality, but also reasonable in price. Our company will send professional installation and commissioning team to the customer's factory for equipment installation, commissioning guidance, and equipment use and maintenance knowledge training. Moreover, our after-sales service team will arrive at the site in time to repair the equipment and provide the best service when the equipment fails.
If you want to know more about cassava starch manufacturing equipment
Product
Contact
Cel/WhatsApp: +8613526615783
Phone: +86 371 5677 1822

E-mail:

market@doingmachinery.com

Address: Room 1408,14th Floor,Building 9,No.133 Yaozhai Road,Jinshui District,Zhengzhou City,Henan Province,China
Online Chat