What machinery can be used to get potato starch? Where to buy it?
Potato starch processing machinery is a prerequisite for putting potato starch processing plant into operation. So what machinery can be used to get potato starch? In general, the potato starch processing machinery mainly includes dry sieve, rotary washing machine, cutting machine, rasper, centrifuge sieve, hydrocyclone station, vacuum filter and flash dryer.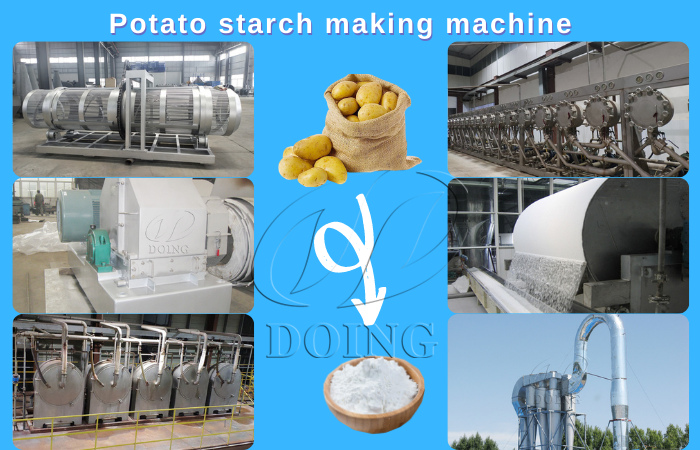 Potato starch processing machinery
Let's learn more about potato starch processing machinery combined with the potato starch production process.
In cleaning step, dry sieve and rotary washing machine are used to clean and wash potato raw material effectively.
In crushing step, cutting machine and rasper are used to crush the potato and improve the dissociation rate of conjugated starch.
In refining step, centrifuge sieve and hydrocyclone station are used to concentrate and delicate the potato starch milk.
In dehydrating step, vacuum filter is used to dewater the potato starch milk into wet potato starch.
In drying step, the flash dryer is used to dry the wet potato starch instantly into the high standard finished starch.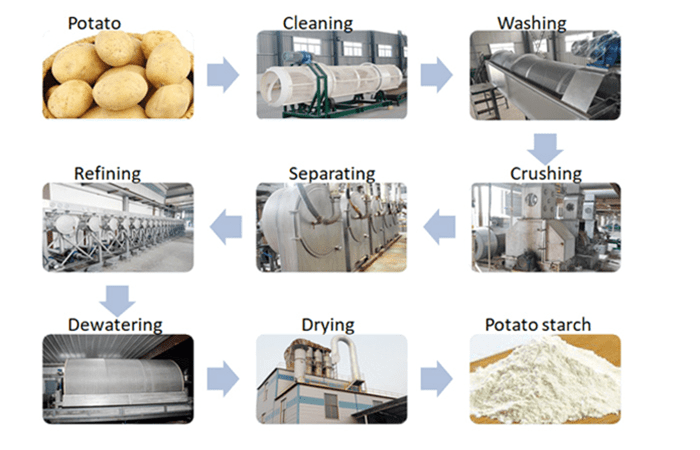 Potato starch processing process
All these machinery can be controlled by the PLC system to realize the visualized operation, which will save the labor cost. Then where to buy it? Here I suggest to choose Henan Jinrui Company, a professional manufacturer and direct supplier of potato starch processing machinery who has got the favors of clients in more than 30 countries and regions all over the world. The potato starch processing machinery designed by Jinrui has the advantages of high starch extraction rate, high quality finished potato starch, stable running, low power consumption, easy handling, etc.
Comment below or call Jinrui and tell us your requirements, our engineers and technical team can customize high cost-effective potato starch processing machinery for you! And Jinrui also has oversea warehouse, welcome to have a factory visiting!
Product
Contact
Cel/WhatsApp: +8613526615783
Phone: +86 371 5677 1822

E-mail:

market@doingmachinery.com

Address: Room 1408,14th Floor,Building 9,No.133 Yaozhai Road,Jinshui District,Zhengzhou City,Henan Province,China
Online Chat