How long will it pay back to buy a set of potato starch processing equipment?
For a long time, because starch can used in food and industry, the market demand for starch has been very high, especially in recent years. Many countries import starch from other countries, so this got a lot of people interested in processed starches, like potato starch, cassava starch, sweet potato starch. Among which, potato starch production is very promising business. When it comes to start potato starch business, many investor would like to know may want to know how long will it pay back to take a set of potato starch making machine.
Usually, the pay back problem need to consider some factors: raw material cost, running cost and price of final starch, based on which we can calculate what profit we can get from potato starch production, then we will know how long will it pay back to take a set of machines.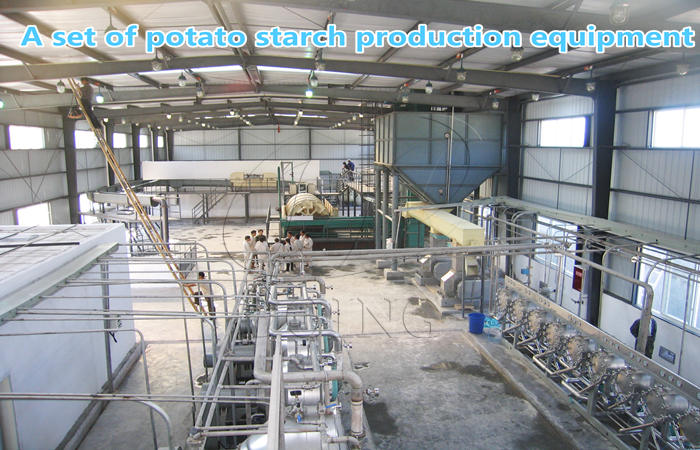 A set of potato starch production equipment in factory
According to the information from China market, one ton potato starch price is around 1200usd, and one ton potato tubers price is about 100usd, about 5tons potato can produce 1 ton starch, That means the gross profit for one ton potato starch production is about 700usd. After we minus the running cost, we can conclude net profit. The running cost include water consumption, electricity consumption and labor cost. If you can let us know the water and electricity price and labor salary in your area, Henan Jinrui company can help you do the profit analysis.
To sum up, potato starch making project is a profitable business, if you want to start to do it, welcome to consult us for more details about the potato starch processing machines, Henan Jinrui can help you to do a free business plan.
Product
Contact
Cel/WhatsApp: +8613526615783
Phone: +86 371 5677 1822

E-mail:

market@doingmachinery.com

Address: Room 1408,14th Floor,Building 9,No.133 Yaozhai Road,Jinshui District,Zhengzhou City,Henan Province,China
Online Chat