How to clean tapioca quickly and cleanly with a machine?
Tapioca as main staple in Africa which can process to various final products like garri, tapioca flour, tapioca starch. However, no matter what kind of tapioca production process, the first thing you need to do is to clean the tapioca. Normally speaking, the traditional cleaning method for tapioca is hand cleaning. Obviously, the efficiency of this method is very low. Thus, many tapioca production business investors are wondering if there is a way to clean up tapioca quickly and cleanly. As a professional tapioca production machine manufacturer and supplier, HENAN JINRUI clearly tells you that there is such a device, it is a paddle cleaning machine.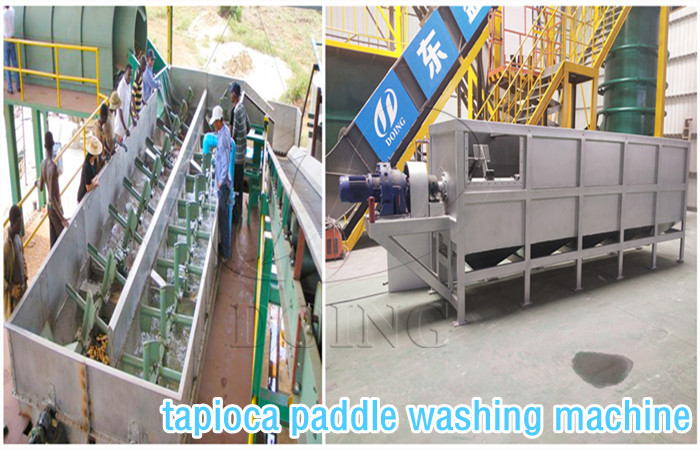 Tapioca paddle washing machine
In cleaning part, the paddle washing machine designs paddle washing and unique countercurrent washing principle which can achieve good efficiency. It means when paddle washing machine working, we need open the inlet bottom valve. At the same time, we need to inject water and the water will flow to first valve because of gravity, but the paddles will push tapioca roots forwarder. The tapioca move direction is opposite with water flow direction to ensure the final cleaning effect. Moreover, inside the machine bottom, there is net and groove. The net is used to filtrating sand and the groove is used to collecting stones and other impurities. This is also another special design details to promise cleaning effect. This design is popular and unique for Henan Jinrui Company.
And, this machine has the features of can cleaning tapioca quickly. The whole process can deal with at least 2tons tapioca roots one hour. If tapioca roots from somewhere muddy, Henan Jinrui Company will advice client to add a dry sieve to remove part of tapioca mud firstly then use paddle washing machine to cleaning again. [Recommend reading: Cassava dry sieve]
Henan Jinrui Company can provide kinds of machine like garri, tapioca flour and tapioca starch production machine according your different capacity plan. If you have such idea to start tapioca production, welcome to contact us.
Product
Contact
Cel/WhatsApp: +8613526615783
Phone: +86 371 5677 1822

E-mail:

market@doingmachinery.com

Address: Room 1408,14th Floor,Building 9,No.133 Yaozhai Road,Jinshui District,Zhengzhou City,Henan Province,China
Online Chat