How to get detailed information and lowest price of cassava flour production line?
As an experienced cassava processing machinery manufacturer in China, Henan Jinrui Company often hears customers asking how to get detailed information and lowest price of cassava flour production line. Today, Henan Jinrui Company gave a detailed answer to this question, hoping to help more people in need.
Whether it is a small-scale semi-automatic cassava flour production line or a large-scale fully automatic production line, the cassava flour processing technology of Henan Jinrui Company is the same. The difference between them is just capacity and machine size. The picture below is the flow chart of cassava flour production line of Henan Jinrui, you can customize it according to your needs. 【Recommended reading: How is cassava flour produced?】
The overview of cassava flour prcessing plant
In addition, you need to know that the price of the cassava flour production line is not fixed. After understanding your needs and budget, Henan Jinrui's engineers will customize a production line that meets production efficiency for you, so the final price depends on the customer. To get an accurate quote, you need to know the following factors in advance.
1. Machine material
Cassava flour plants and other cassava processing machines are used for cassava processing. So the machine material is very important. Henan Jinrui Company uses 304 food-grade stainless steel materials in processing machinery, which is safe for edible cassava production.
2. Cassava flour processing method
With the development of technology, mechanized production of cassava processing has become more and more popular. In Africa, there are many local people who make cassava flour by hand from dried cassava chips. Final cassava flour quality and purity cannot be guaranteed.
In order to expand production capacity and obtain high-quality cassava flour, Henan Jinrui Company has designed cassava processing machines with different capacities. We use fresh cassava tubers as raw material and process into final high quality cassava flour and other cassava products.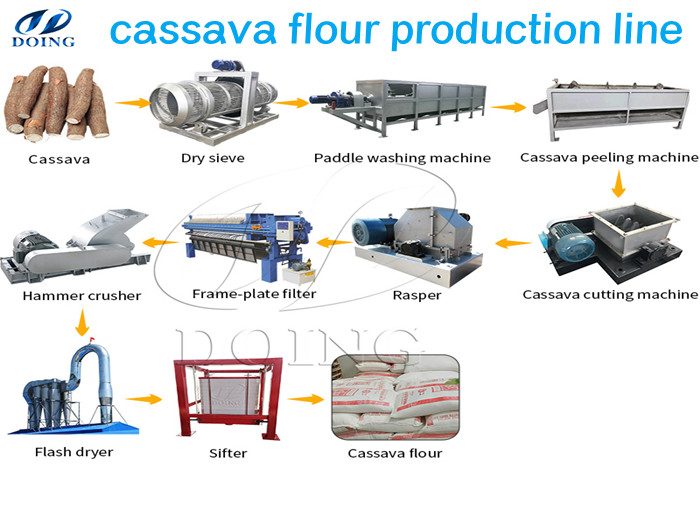 The introduction of cassava flour production line
3. Capacity and machine price
In cassava flour production, there are cleaning, peeling, grating, dewatering, drying and sieving parts in processing line. If a customer needs a small scale cassava flour production line, we will advice them to choose peeling machine, grating machine, dewatering machine, flash dryer, fine mill machine, and vibration sieve machine. The FOB price of these machines in Qingdao, China is about $50,000. Customers can also add some other machines to make the processing line even more automated. Of course, if the customer has enough budget, it is better to have a fully automatic processing line to make more profit.
The above is the cassava flour production line information provided by Henan Jinrui Company. If you want to know more the detailed price of cassava flour processing machine, you can contact us or leave us a message.
Product
Contact
Cel/WhatsApp: +8613526615783
Phone: +86 371 5677 1822

E-mail:

market@doingmachinery.com

Address: Room 1408,14th Floor,Building 9,No.133 Yaozhai Road,Jinshui District,Zhengzhou City,Henan Province,China
Online Chat