How is cassava flour produced?
With the development of technology and the increasing demands of cassava flour, more and more people choose to produce cassava flour by automatic way. To produce cassava flour with high quality and good taste, Jinrui has specially designed cassava flour production process for your reference. It mainly includes the following seven steps: cleaning, washing, crushing, dehydrating, milling, drying and sieving. Here Jinrui would introduce the cassava flour production process and equipment needed in details for you.
Step 1: cleaning
Use dry sieve to remove dirt, sand, small stones, weeds and other impurities on the surface of cassava. The dry sieve adopts the reasonable rotating speed guarantees the cassava cleaning smoothly and makes cassava free of damage.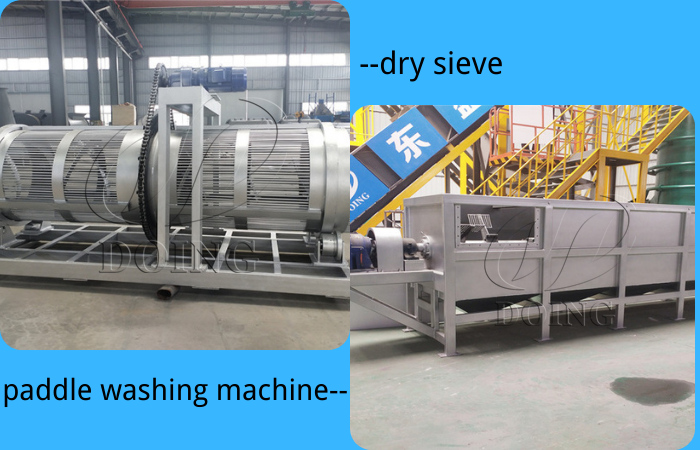 Dry sieve and paddle washing machine
Step 2: washing
Use paddle washing machine to make cassava washing completely and eliminate the sand and mud attached to cassava raw material effectively. The paddle washing machine adopts the counter-current washing principle, cassava raw material flow in the converse direction against the water current, the washing effect is good.
Step 3: crushing
Use cutting machine and rasper to crush washed cassava into cassava pulp. Henan Jinrui designed the double crushing method and the cassava crushing rate is as high as 94%, which makes the binding starch free rate high and is beneficial to improve the yield of cassava meal.
Cutting machine and rasper
Step 4: dehydrating
Use plate-frame filter press to dehydrate the cassava pulp into cassava flour cake. The plate-frame filter press can realize automatic pressing, filtering, draining and so on with a high degree of automation, large production capacity and high output.
Plate-frame filter press and hammer crusher
Step 5: milling
Use hammer crusher to crush the cassava flour cake into cassava flour mush. The hammer crusher use the high speed rotating knife to break the cassava flour cake, it has the features of strong broken, low energy consumption and high capacity.
Step 6: drying
Use flash dryer to dry the cassava flour instantly. The flash dryer has unique negative pressure system and cooling system, which can guarantees the moisture uniformity of the finished cassava flour and also controls the loss of cassava flour.
Flash dryer and vibration sieve
Step 7: sieving
Use vibration sieve to screen different size particles and powder materials of cassava flour, which can meet all kinds of requirements.
That's how cassava flour is produced by machines. If you want to start cassava flour production business, welcome to contact Henan Jinrui and our engineers will customizehigh quality cassava flour processing machine for you!
Product
Contact
Cel/WhatsApp: +8613526615783
Phone: +86 371 5677 1822

E-mail:

market@doingmachinery.com

Address: Room 1408,14th Floor,Building 9,No.133 Yaozhai Road,Jinshui District,Zhengzhou City,Henan Province,China
Online Chat