Cassava starch processing factory
In cassava starch processing factory, we use physical separation method to process cassava starch. By taking use of the property that cassava starch is insoluble in cold water and has a specific gravity greater than water, Doing Company use water and professional cassava starch processing equipment to separate the starch from the water suspension to achieve the purpose of recovering the starch.
The production process in cassava starch processing factory is divided into transportation, cleaning and washing, grinding, separation, desanding, concentration and refining, dehydration, drying and packaging.
Cassava starch production line
1. Cassava transportation section: After harvesting fresh cassava, the soil, roots, whiskers and wood parts should be removed in time and piled on clean ground to avoid mixing with iron blocks, nails, stones, wood and other debris. It is required to be harvested and transported to cassava starch processing factory on the same day so as to ensure the freshness of raw materials, thereby increasing the extraction rate and product quality.
2. Cassava cleaning and washing section: For this process in cassava starch processing factory, the cassava raw material is transported into dry sieve and rotary washing machine to remove the sand, soil and attached impurities. It is required to clean the sediment by washing, the peeling rate is over 80%, and then sent to the grinding process.
3. Grinding section: Cassava roots are grinded into starch slurry so that the free starch is released from cassava cell. DOING rasper is a high efficient machine with high grinding rate over 94% in cassava starch processing factory.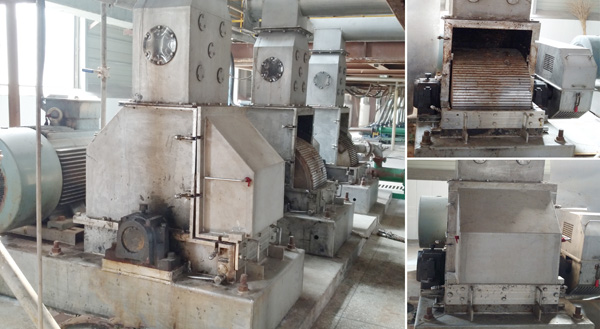 Cassava grinding machine
4. Starch separation section: This process is mainly used to separate fiber from starch. It is required that the starch residue contains less than 35% starch after separation process in cassava starch processing factory, wherein the free starch contains less than 5%, and the fiber impurity content of the milk slurry is less than 0.05%.
5. Starch desanding section: In cassava starch processing factory, this process is used for removing sand out of cassava slurry. And the principle is specific gravity separation. After sand removal, not only impurities such as fine sand are removed but also disc separator can be protected.
6. Starch concentration and refining: The function is to separate the protein, fiber, cell sap and other impurities from the starch slurry, thereby achieving the purpose of washing, refining and concentrating the starch milk. Doing Company can provide advanced full hydrocyclone technology for cassava starch processing factory.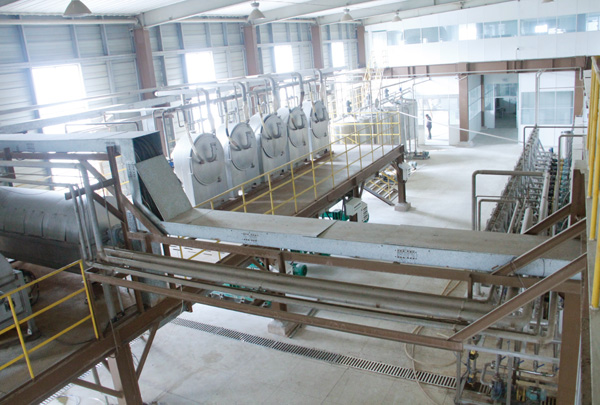 Cassava starch separating machine
7. Starch dehydration section: This process is to dehydrate cassava starch and to decrease moisture content of starch slurry. In traditional cassava starch processing factory, only peeler centrifuge is used for dehydration process. Doing Company can equip vacuum filter and peeler centrifuge for you to achieve a better dehydration effect.
8. Starch drying and packing section: As the last process in cassava starch processing factory, the drying process is used for drying cassava starch to meet market standard. Then the dried cassava starch is packed for sale.
Cassava starch drying machine
The process characteristics of cassava starch processing factory
1 This cassava starch processing factory covers small area, less pipeline and pump usage, less investment and less water and energy consumption.
2 The production process is short, only 30 minutes from the feeding to the production of finished products.
3 The cassava starch processing factory can achieve continuous production and the equipment efficiency is high.
4 In addition to the drying process, the entire production process is carried out under normal temperature and pressure conditions.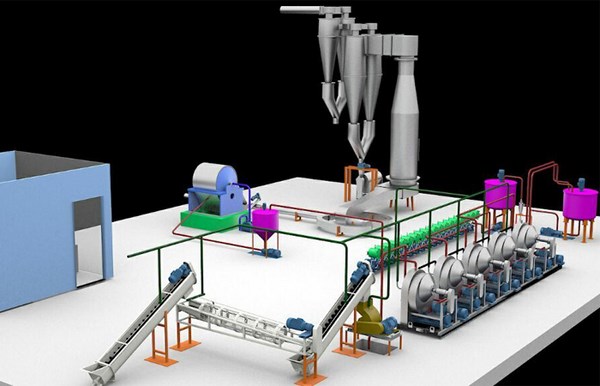 Cassava starch processing plant
Doing Company as a professional and experienced cassava starch processing machine manufacturer which integrating machine design, process design, power distribution design, building construction design, installation and commissioning, etc. We can design small, medium and large size cassava starch processing factory according to requirements, Welcome to contact us and visit our factory.
Product
Contact
Cel/WhatsApp: +8613526615783
Phone: +86 371 5677 1822

E-mail:

market@doingmachinery.com

Address: Room 1408,14th Floor,Building 9,No.133 Yaozhai Road,Jinshui District,Zhengzhou City,Henan Province,China
Online Chat