Cassava peeling machine
Cassava peeling machine is widely applied to pretreatment of cassava in garri production line, cassava chips processing, and cassava flour full set processing machine. Cassava outer peel is thick, which can damage grinding and slicing equipment if cassava is not peeled first. So cassava outer peels and subcutaneous cuticle of cassava roots should be removed with cassava peeling machine before the next process.
Cassava peeling machine
Cassava peeling machine, made by Doing Holdings - Henan Jinrui Food Engineering Co., Ltd, is also called sand roller peeling machine. This machine adopts round roller design with sand paper in the surface and is very popular among customers.
Working principle of cassava peeling machine
Cassava peeling machine mainly consists of peeling brush, motor, brush roll, transmission system, and spray system. After cleaning, cassava is transported into peeling machine. Then cassava is pushed forward by spiral brush to produce friction by contacting directly with peeling brush. The first and second layers of the cassava can be easily removed by using friction between the peeling brush and the cassava. And the spray system wash the cassava peels away. The peeled cassava is pumped into the next section by a spiral conveyor and the cassava peel and other debris are collected into collection tank.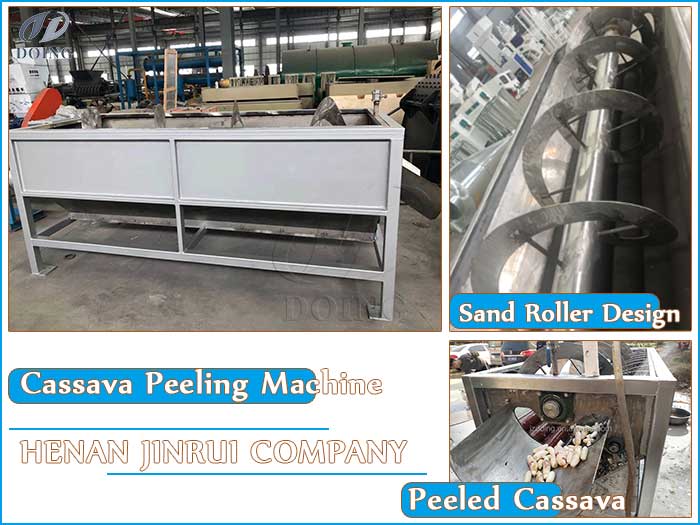 The structure of cassava peeling machine
Features of cassava peeling machine
1.The brush roll through special processing is durable and difficult to damage.
2.This machine is easy to operate and maintain because of its simple structure.
3.The machine with high quality stainless steel can prevent cassava from pollution and is firm and durable.
4.Complete peeling and cleaning with above 95% of peeling rate.
5.High degree of automation can save labor cost , time and labor effectively.
6.The damaged rate of cassava raw material after peeling is low and the surface is smooth.
Technical parameters
| | | | |
| --- | --- | --- | --- |
| Model | DYTP-40 | DYTP-60 | DYTP-80 |
| Capacity(t/h) | 0.5-1 | 1-2 | 3-4 |
| Power(kw) | 3 | 5.5 | 7.5 |
| Dimension(mm) | 3250*1050*1100 | 4250*1050*1100 | 5250*1050*1100 |
| Weight(kg) | 1200 | 2000 | 3000 |
Cassava peeling machine of Doing Holdings - Henan Jinrui Food Engineering Co., Ltd with high quality and reasonable price is the ideal equipment for cassava peeling. In addition, our company will provide customers with comprehensive technical support and excellent after-sales service. Our company will provide users with a full set of detailed technical information, and send relevant technical personnel to the site to provide technical exchanges and training. When the equipment fails again, our company will send professional maintenance personnel to the site in time to repair the equipment. If you have anything you want to know, welcome to contact with us.
Product
Contact
Cel/WhatsApp: +8613526615783
Phone: +86 371 5677 1822

E-mail:

market@doingmachinery.com

Address: Room 1408,14th Floor,Building 9,No.133 Yaozhai Road,Jinshui District,Zhengzhou City,Henan Province,China
Online Chat