Cassava cutting machine
The introduction of cassava cassava cutting machine
In cassava starch production, there is one procedure called cassava crushing section. Considering the long size of cassava tubers, we normally divide it into two steps which are primary crushing and secondary crushing. Cassava cassava cutting machine is used in the first stage of crushing.
The structure and working principle of cassava cassava cutting machine
cassava cutting machine consists of main equipment body structure, dynamic knives, static knifes, transmission belts and motor. When the cassava cutting machine starts running, cassava tubers are firstly cut by rotated dynamic knives, and then cut again by static knives when cassava pieces are drop down to the discharging port. Cassava cassava cutting machine can cut full pieces of cassava tubers into small pieces with size of 1-5cm, which can reduce working load of the second crushing machine which is called rasper.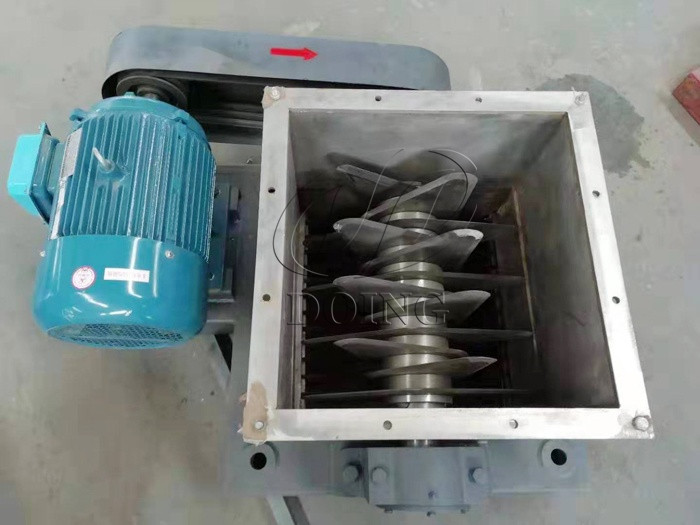 The cassava cutting machine of Henan Jinrui
The technical parameters of cassava cassava cutting machine
| | | | | | | | |
| --- | --- | --- | --- | --- | --- | --- | --- |
| Model | Capacity (t/h) | Cage diameter (mm) | Speed (r/min) | Blades No. (pcs) | Power (kw) | Dimension (mm) | Weight (kg) |
| QDJ-20 | ≤20 | Φ480 | 1200 | 18 | 11 | 1300×1300×600 | 1050 |
| QDJ-30 | 20-40 | Φ480 | 1200 | 24 | 22 | 1500×1300×600 | 1350 |
The feature of cassava cassava cutting machine
1.The cutting size of the cassava cutting machine can be adjusted. Generally, it will be confirmed before the equipment is produced. If the user has no special requirements, it will be configured as usual. If the user needs to change the cutting size of the material during the production period, you can disassemble and assemble the adjusting block and static knife cutter head, to adjust cutting size.
2.Knives of the cassava cutting machine is specially designed. With shape of diamond, the cutting knives have longer service life than normal ones. Besides, material of knives is 4Cr13 which is high hardness of wear-resisting material.
Comparison of Henan Jinrui's specially designed blades and other blades
The advantages of cassava cassava cutting machine
1.The cassava cassava cutting machine has fast running speed, low energy consumption and stable operation.
2.Novel design structure, easy to disassemble and maintain.
3.High production efficiency can fully meet the production needs of large-scale cassava starch processing plants.
Product
Contact
Cel/WhatsApp: +8613526615783
Phone: +86 371 5677 1822

E-mail:

market@doingmachinery.com

Address: Room 1408,14th Floor,Building 9,No.133 Yaozhai Road,Jinshui District,Zhengzhou City,Henan Province,China
Online Chat