What machines are needed for cassava starch processing plant?
As one of the most professional cassava starch processing machines manufacturers, we have got many consult about what machines are needed for cassava starch processing plant. Generally speaking, the needed machines are dry sieve, paddle washing machine, cutting machine, rasper, centrifuge sieve, fine fiber sieve, hydrocyclone station, peeler centrifuge and flash dryer.
Here I will make an introduction about each cassava starch processing machine combined with the cassava starch production process.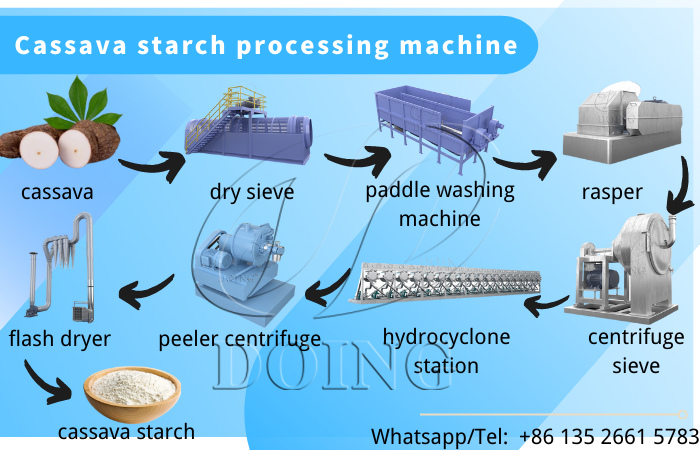 Cassava starch processing machine
Dry sieve:
The impurities in cassava can be effectively removed by removing the weeds and small stones through a dry sieve.
Paddle washing machine:
And then cleaning the surface sediment through a paddle washing machine. It is worth mentioning that in order to further improve the quality of final cassava starch, Jinrui can customize the design of cassava processing machine with peeling effect in the cleaning process.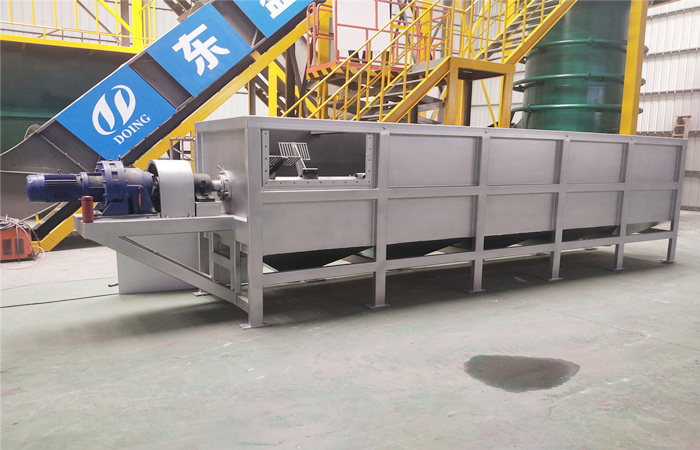 Paddle washing machine
Cutting machine:
Cutting machine is often used to pre-crush the cassava into small pieces.
Rasper:
And then rasper is used to crush small cassava pieces into the slurry. All food contact areas of cassava starch processing machine designed by Henan Jinrui are made from stainless steel.
Rasper
Centrifuge sieve:
Centrifuge sieve is used to separate cassava and fiber firstly.
Fine fiber sieve:
And then fine fiber sieve will further separate the fine cassava residues and small fiber from cassava slurry. Oversize particles of cassava residues cannot pass through the lattice structure of the filter, while fluid of cassava slurry can pass through to become filtrate.
Hydrocyclone station:
When raw starch milk enters the hydrocyclone station, the pure starch milk of high density getting larger centrifugal force leaves from the underflow outlet, and the fiber, protein, cell sap and other soluble impurities of low density getting smaller centrifugal force leave from the overflow outlet. Finally, it can achieve the purpose of various components of separation, and improve the quality of final starch with higher whiteness and purity.
Hydrocyclone station
Peeler centrifuge:
People can use peeler centrifuge to dehydrate the pure starch milk to low water content of 35-40% by the principle of vacuum suction filtration. Ensure sufficient water has been removed, otherwise, the starch will form into lumps during drying.
Flash dryer:
The last, flash dryer will effectively dry the wet starch into dried cassava starch with low moisture content by the principle of heat transfer exchange. The drying process is more reliable and of higher quality.
For different processing needs of customers, Henan JinRui Company will suggests to design the corresponding cassava starch processing plant scheme according to the actual situation. We can also provide customized services to adjust the cassava starch processing machine to maximize the interests of customers! Welcome to contact us for free quote!
Product
Contact
Cel/WhatsApp: +8613526615783
Phone: +86 371 5677 1822

E-mail:

market@doingmachinery.com

Address: Room 1408,14th Floor,Building 9,No.133 Yaozhai Road,Jinshui District,Zhengzhou City,Henan Province,China
Online Chat