The specifications of one unit of potato starch making machine
Potato starch is popular in the market whether in domestic or foreign countries because of its high standard nutrition value and viscosity. Potato starch has wide applications, which can be used in processing candies, noodles, food additives, and other industrial areas. That is why potato starch is more popular than other starches.
In recent years, more and more clients want to venture into potato starch making. Henan Jinrui Food Company as one of the much-experienced starch machine manufacturers provides some details about the processing methods of potato starch and some details about this project.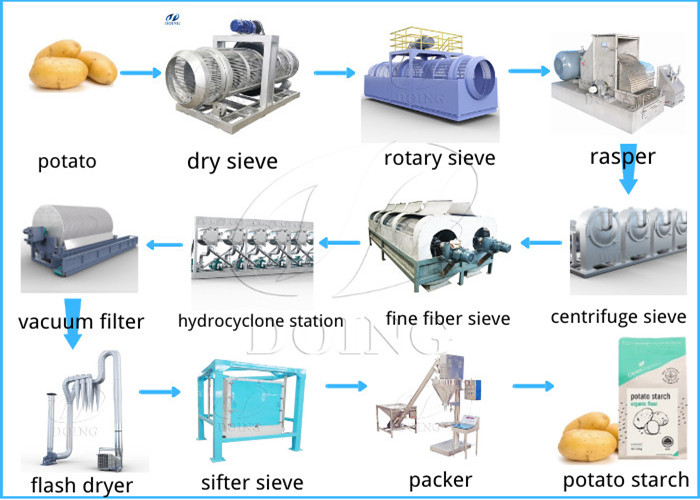 Potato starch making process and making machine
Firstly potato starch making has three parts, including cleaning, processing, and drying part. The cleaning part is used to remove potato material impurities and clean potato tubers better. In the processing part, we will use the machine to grate potato tubers, sieve fibers, desanding, sieve proteins, dewatering, etc. Then we can get pure and wet potato starch with 38%-40% moisture. The final part is drying and sieving to get high quality potato starch.
If you have an idea to venture into potato starch processing, here are some details you need to learn: capacity plan, water, and electricity consumption, and workshop size. Henan Jinrui Food Company can produce potato starch machines with a capacity is from 2tons of material input per hour to 40tons of material input per hour. You should decide final capacity plan after learning local market and we will also tell you the suitable workshop size according to your different capacity plans. For water and electricity consumption, one-ton potato material needs about 1.3ton water and 180kw of electricity per hour. You can reference these to learn local market first.
Jinrui has many kinds of starch machines including cassava starch making machines, sweet potato starch making machines, and potato starch making machines.
If you have any other questions about our machine, we are very welcome to get messages.
Product
Contact
Cel/WhatsApp: +8613526615783
Phone: +86 371 5677 1822

E-mail:

market@doingmachinery.com

Address: Room 1408,14th Floor,Building 9,No.133 Yaozhai Road,Jinshui District,Zhengzhou City,Henan Province,China
Online Chat