How to extract cassava starch from cassava roots?
Generally speaking, to extract cassava starch from cassava roots mainly includes the following seven steps: cleaning, washing, crushing, separating, concentrating, dehydrating and drying. These steps are consistent whether you extract cassava starch from cassava roots manually or automatically.
In contrast, automated cassava starch processing way has the advantages of high production efficiency, high starch extraction rate and high economic benefit. Henan Jinrui Company has been committed to manufacture and supply the cassava starch processing machine for more than 10 years. In the following, I would like to share you how to extract cassava starch from cassava roots with cassava starch processing machine.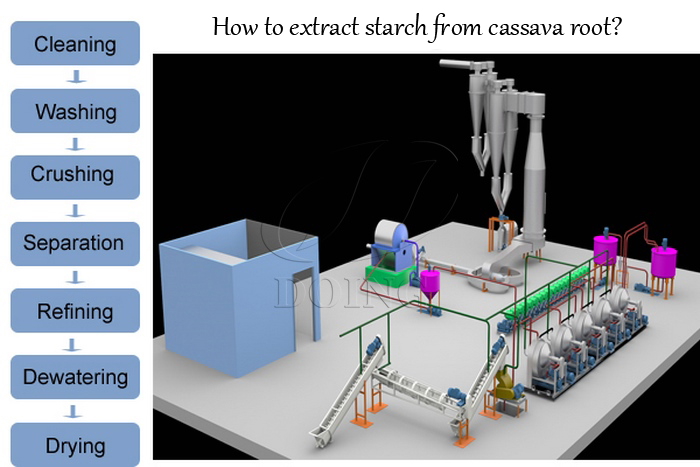 Cassava starch processing process
First step: cleaning
First of all, you can use the dry sieve to remove the impurities attached to the cassava, such as dirt, sand, small stones, weeds, etc.
Second step: washing
After cleaning step, the paddle washing machine adopts the counter-current washing principle to wash cassava completely, eliminate sand and mud effectively.
Third step: crushing
Then you may use the cutting machine to cut the cassava into pieces, and then use the raper to crush the cassava pieces into cassava starch slurry.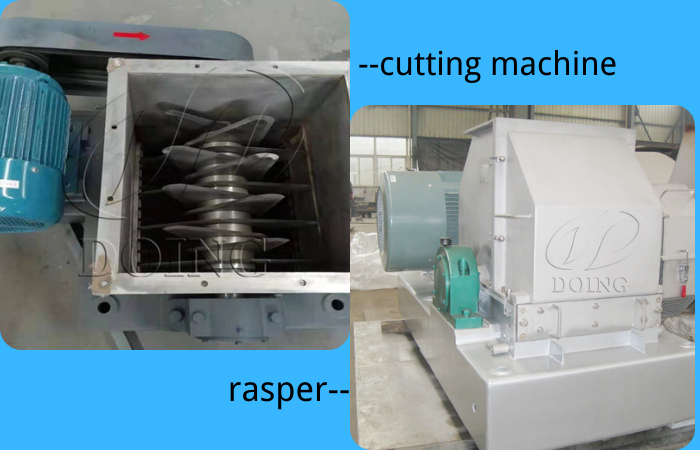 Cutting machine and rasper
Fourth step: separating
In separating step, the centrifuge sieve is firstly used to separate the fiber and starch slurry, and then you may adopt the fine fiber sieve to separating small fiber from starch slurry further.
Fifth step: concentrating
You can adopt the hydrocyclone station to remove fiber, protein, and cell sap out of starch milk to concentrate and delicate scrubbing starch milk.
Sixth step: dehydrating
After concentrating the cassava starch milk, the peeler centrifuge will adopts continuous operation and intermittent discharging to dehydrate the starch slurry. It can decrease moisture content to 36.5%.
Peeler centrifuge
Seventh step: drying
You may adopt the flash dryer to dry the cassava starch in the drying step. The flash dryer has special negative pressure cooling system, which could dry cassava starch instantly and guarantee the moisture uniformity of the finished cassava starch.
For more detailed information about the cassava starch processing business, welcome to contact us for free quote! Our sales manager will help you choose the most suitable cassava starch processing machine at factory price.
Product
Contact
Cel/WhatsApp: +8613526615783
Phone: +86 371 5677 1822

E-mail:

market@doingmachinery.com

Address: Room 1408,14th Floor,Building 9,No.133 Yaozhai Road,Jinshui District,Zhengzhou City,Henan Province,China
Online Chat