How is tapioca made from cassava?
Cassava is produced in tropical and subtropical regions and is widely used for making tapioca. But how is tapioca made from cassava? Tapioca is made from cassava through wet processing technology of starch production without adding any additives. The whole process for how is tapioca made from cassava is matured in technology, advanced in equipment, scientific in configuration and reasonable in process. The starch production process is designed according to the seven sections of cleaning and washing-cutting and crushing-fiber separation-desanding-concentration and refining-dehydration-drying. Especially the crushing and screening section, through the unique process of multi-stage breaking, multi-stage filtration and multi-stage extrusion, has the advantages of low energy consumption, high starch extraction rate and good starch quality, which improves the production efficiency and starch extraction rate of the production line.
Tapioca processing plant
Here is the introduction of process for how is tapioca made from cassava
1.Cassava roots cleaning and washing: Cassava roots are first delivered to dry sieve for cleaning by belt conveyor. This process for how is tapioca made from cassava is to remove most of the dirt, sand and debris bound to the surface. Then cassava roots enter the paddle washing machine to further remove the sediment to make the material clean. Most of the washing water is coming from process circulation water.
2.Cutting & crushing: Cutting for how is tapioca made from cassava is making crushing process easier. Crushing is the most important process for tapioca processing for it determines the starch yield. And crushing is to destroy cassava organizational structure as much as possible, so that tiny starch granules can be disintegrated and separated thoroughly from the cassava root. The process uses internationally accepted rasper crushing process. DOING rasper is design and manufactured on the basis of international advanced technology.
3.Fibre separation: The starch slurry is delivered into centrifugal sieve for separating fibers for how is tapioca made from cassava. This is also an important process which determines the starch yield. The undersize sieved material are crude starch milk which will be pumped into fine fiber sieve for further separating fine fibers. These two machines adopt the automatic front and back washing system which guarantee the good screen penetration and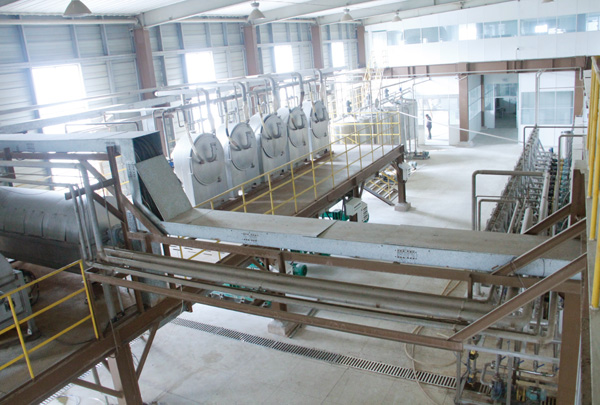 Tapioca separating machine
4.Starch slurry desanding: The purpose of sand removal for how is tapioca made from cassava is to remove fine sand in starch slurry and further improve the precision of starch to meet commercial standard.
5.Protein separation and refining: This process for how is tapioca made from cassava adopting hydrocyclone station for concentration and refining starch milk. The hydrocylone station are connected in series for removing insoluble protein, residue soluble protein and other non-starch components so as to ensure the whiteness of starch and improve the quality of starch.
6.Starch dewatering: Dewatering process for how is tapioca made from cassava serves for reduce water content of starch to meet the requirements for drying. The refined starch milk adopts peeler centrifuge for dewatering. After treatment by the peeler centrifuge, the water content of starch goes from 60% down to 38-40%. The siphon type peeler centrifuge can effectively decrease the moisture content to 36.5%.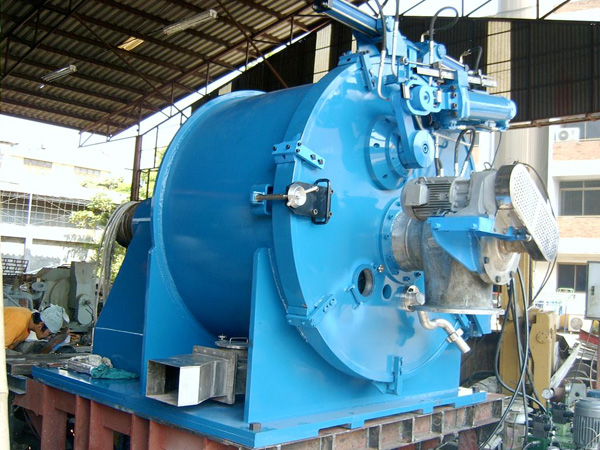 Tapioca dewatering machine
7. Starch drying and packing: The dewatered starch is dried though flash dryer for the process of how is tapioca made from cassava. After drying, the water content of dry starch is about 14%. Then the dry starch is cooled and transported into packing machine for package.
In conclusion, the above is the detail introduction of the process for how is tapioca made from cassava. Doing Company is a professional and senior starch processing equipment manufacturer, we can provide customers with cutting-edge technology, professional installation, fine management, fast and comprehensive services. Besides, we offer a full range of services including design, manufacturing, installation, commissioning and training.
Product
Contact
Cel/WhatsApp: +8613526615783
Phone: +86 371 5677 1822

E-mail:

market@doingmachinery.com

Address: Room 1408,14th Floor,Building 9,No.133 Yaozhai Road,Jinshui District,Zhengzhou City,Henan Province,China
Online Chat