Cassava starch production machinery
Cassava starch production machinery are used to process cassava starch which from clean raw cassava to extract cassava starch from cell then to separate non-starch contents in starch slurry and to dry starch get edible cassava starch. The mainly used cassava starch processing machinery includes dry sieve, paddle washing machine, rasper, centrifuge sieve, fine fiber sieve, desander, hydrocyclone station, peeler centrifuge and flash dryer.
1. Dry sieve(cassava cleaning machine): This is a widely used cassava starch production machinery for cleaning. It serves to remove foreign matter of cassava roots such as sand, stone, weed and other debris of the cassava.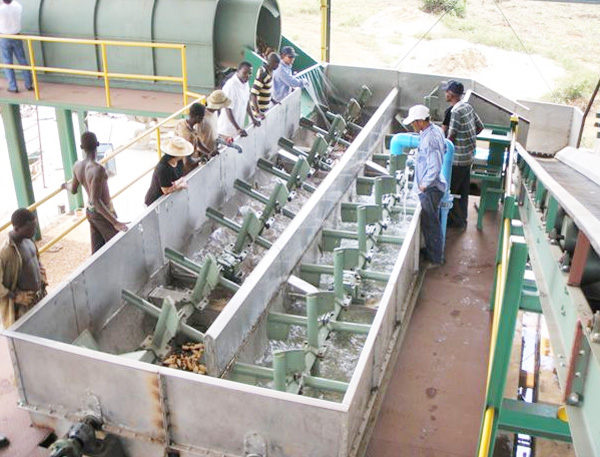 Paddle washing machine
2. Paddle washing machine(cassava washing machine): Paddle washing machine ia also used for pretreatment of cassava whose main function is to remove the attached sand, dirt, outer peelers and other attached impurities. In this lean cassava starch production machinery, cleaning water is fed from the outlet, and the water flows backward to wash the raw materials and discharge the dirty water and cassava skin from the inlet of the machinery. The cleaning water can be transferred from the circulating pump to the flume as the flushing water, which can be recycled.
3. Rasper(cassava grinding machine): Rasper is the most important cassava starch production machinery which determines the cassava starch extraction rate. The high-efficiency cassava grinding machine allows the starch granules in the cassava cells to be completely released. Stainless steel screen plate is an integral structure and can be replaced without tools, which can make the rasper achieve the highest efficiency and starch yield.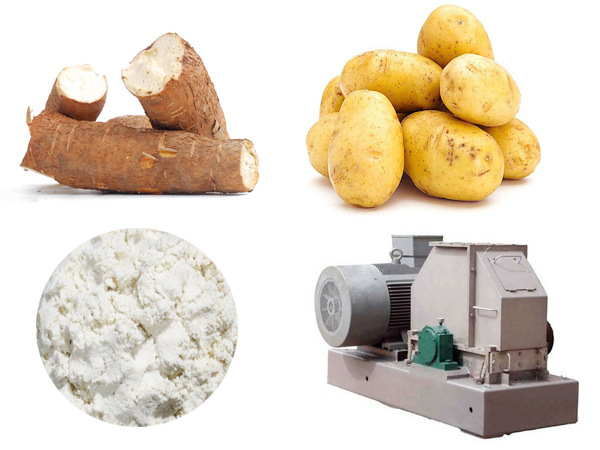 Cassava grinding machine
4. Centrifuge sieve and fine fiber sieve(starch and residue separating machine): These two cassava starch production machinery are used for separate fibers from starch slurry. For theses two machinery, washing water is designed on the front and back of the screen basket to ensure that the screen mesh is not blocked by cassava residue. They are features with high starch extraction rate and good screening effect.
5. Desander(desaning machine): Desander cyclone is a cassava starch production machinery used for removing sand content in starch slurry so as to improve the taste of cassava starch. it has such advantages as small ground occupation, less investment, easy installation, handy maintenance and high desanding effect.
6. Hydrocyclone station(starch refining machine): The hydrocyclone station is a cassava starch production machinery physically removes impurities from starch slurry so as to the improve quality of starch products. The full hydrocyclone system includes the concentration, recovering ,refining and washing.
Peeler centrifuge
7. Peeler centrifuge(starch dewatering machine): It is a cassava starch production machinery used for decrease moisture content of starch to meet the requirement of subsequent drying process. A more elaborate type siphon peeler centrifuge is equipped with a backwashing device (optional) to flush the outside of the centrifuge drum and the inside of the casing to achieve process cleanliness requirements.
8. Flash dryer(starch drying machine): The flash dryer is mainly used for drying the dewatered starch to meet requirement for the commercial starch. This cassava starch production machinery features with high heat-exchange rate which can complete the drying process in just 2-3 seconds.
Doing Company is a professional cassava starch production machinery manufacturer. With advanced technology standards, stable equipment performance, and mature process standards our equipment is popular all over the world. After more than 20 years of painstaking research and development, and numerous tests, improvements and upgrades, our cassava starch production machinery has become increasingly perfect.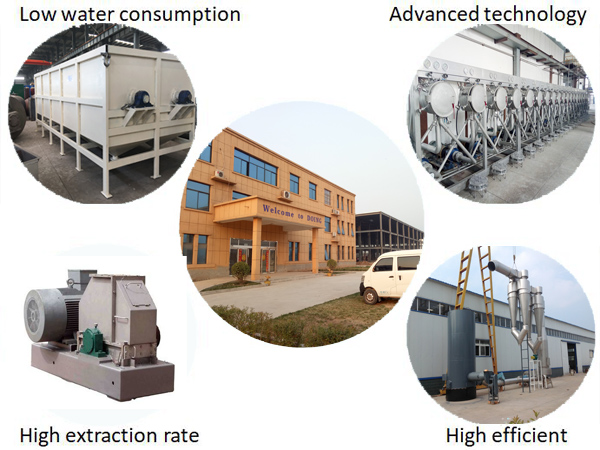 Features of cassava starch production machinery
Here are the main features of cassava starch production machinery:
1. Equipment is relatively simple and economical
2. Modular design
3. Excellent manufacture, free starch filtration rate of up to 98%.
4. Sweden SKF bearing and Germany Optibelt technology, technology-led, reliable operation.
5. Low energy consumption, low water consumption, reducing production costs
6. By-products are easy to recycle
7. Less basic investment, higher cost performance
8. equipment materials are mostly stainless steel and carbon steel
Product
Contact
Cel/WhatsApp: +8613526615783
Phone: +86 371 5677 1822

E-mail:

market@doingmachinery.com

Address: Room 1408,14th Floor,Building 9,No.133 Yaozhai Road,Jinshui District,Zhengzhou City,Henan Province,China
Online Chat