Paddle washing machine
The structure of paddle washing machine
This is a paddle structure machine which mainly consists of washing paddle, washing tank, main spindle, and driving device. The paddle are helically distributed on the main spindle. When working, the driving device drives the main spindle to rotate and the paddle moves along the main shaft. On the one hand, the mud and sand adhering to the surface of the raw materials are removed through the friction between the paddle and the raw materials; on the other hand, the raw materials are transported from the inlet to the outlet for discharging.
Paddle washing machine
The features of paddle washing machine
1.Reasonable feeding and combination arrangement ensure proper distribution of the workshop.
2.Strong comprehensive cleaning function. In the washing process, after various comprehensive physical cleaning effect, the plant leaf, organic and inorganic impurities such as dirt and gravel impurity are cleaned out entirely. Thus the raw material reach the washing standard before crushing which is the key equipment to ensure the quality of starch.
3.Stable move speed of this paddle washing machine can not only guarantee the low material damage rate but improve the extraction rate.
4.This machine adopts the countercurrent washing principle which ensures better washing effect.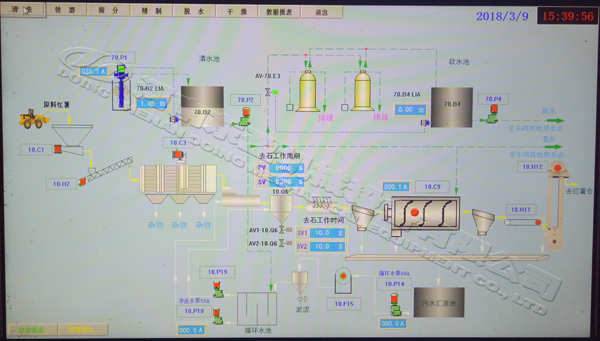 Paddle washing machine design drawing
The technical parameters of DOING paddle washing machine
| | | | |
| --- | --- | --- | --- |
| Model | QXJ100 | QXJ120-1 | QXJ120-2 |
| Capacity(t/h) | 10-15 | 20-30 | 20-40 |
| Material | Carbon Steel | Carbon Steel | Carbon Steel |
| Diameter of paddle(mm) | Φ1000 | Φ1200 | Φ1200 |
| Motor speed(r/min) | 21 | 18 | 18 |
| Working length(mm) | 5500 | 6600 | 6600 |
| Power(kw) | 5.5*2 | 7.5*2 | 7.5*3(4) |
| Dimension(mm) | 7750*2300*2000 | 8700*2700*2000 | 8700*5400*2000 |
| Weight(kg) | 4050 | 6100 | 8760 |
The advantages of paddle washing machine
1.The equipment has the characteristics of novel structure and high efficiency.
2.Stable operation and easy to operate and maintain.
4.Low water consumption and energy saving.
4.The large capacity of this machine can save labors.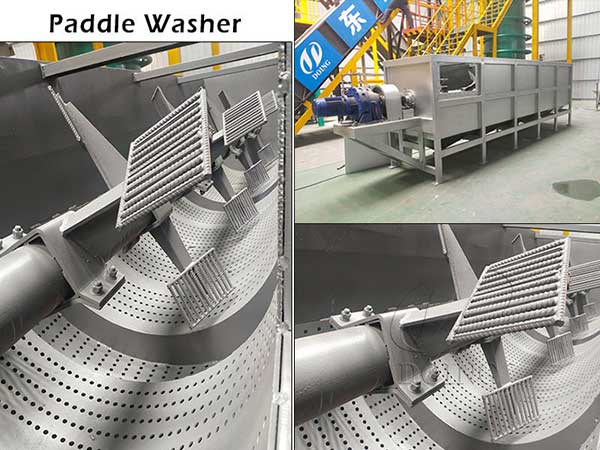 Paddle washing machine details
The working principle of paddle washing machine
The paddle washing machine adopts the countercurrent washing principle. The main spindle of this machine is equipped with plate and paddle, which forms a spiral arrangement on the main spindle. In the continuous rotation of paddle, due to the water moves in the reverse direction with the materials, the materials are fully rolled and rubbed so that the soil attached to the surface of the material is effectively rubbed off. Then the materials are constantly pushed to the discharging outlet. At the same time, the lighter organic impurities floating on the surface of the water and flow away with the flow, while the heavier inorganic impurities settles in the bottom collector boxes and are regularly cleaned out of the machine. Thus in the continuous process of materials entering and leaving, after the rubbing of the paddle, soaking, specific gravity sedimentation process, the raw material is ultimately cleaned up to reach the quality standard before entering the crushing machine.
Product
Contact
Cel/WhatsApp: +8613526615783
Phone: +86 371 5677 1822

E-mail:

market@doingmachinery.com

Address: Room 1408,14th Floor,Building 9,No.133 Yaozhai Road,Jinshui District,Zhengzhou City,Henan Province,China
Online Chat