How long will it take to ship cassava processing machine to Nigeria?
Henan Jinrui Company has been engaged in the R&D and manufacturing of cassava processing machine for more than ten years, and has exported machines to more than 30 countries and regions. And Nigeria is one of the hot markets for our cassava processing machine. Generally speaking, it may take about three months to ship cassava processing machine to Nigeria after customers placing an order.
The detailed cassava processing machine to Nigeria shipping period is influenced by the manufacturing time, transportation time and clearance time.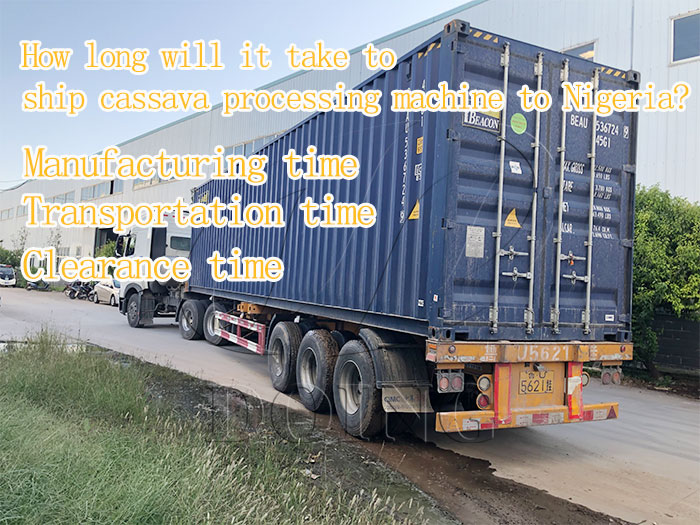 Cassava processing machine to Nigeria shipping period
Manufacturing time depends on what kinds of cassava processing machines you buy and factory production schedule. After receiving deposit from client, Jinrui will confirm voltage requirement with client and then send order to our factory for manufacturing arrangement. If you order small scale garri processing machine, it will take about one month. But if you order large scale cassava starch production line and cassava flour production line, it will take about 2 months.
After machine manufacturing are finished and we receive balance payment from client, the next is to book shipping cargo. Actual transportation time depends on the routes of different shipping companies in different periods. There are two kinds of ship to Nigeria, one is direct vessel and the other is transshipment vessel. It takes about 40 days for direct vessel from China to Nigeria, while it takes about two months or more longer for transshipment vessel.
Besides manufacturing time and transportation time, you should also consider custom clearance time for cassava processing machine, it mainly takes about two weeks or more time. Therefore, if you want to get machines in Nigeria on time, you should buy machines at least 3 months in advance.
Nigeria cassava processing machine warehouse
But it's worth mentioning that Henan jinrui company has overseas warehouse in Nigeria. Our company usually ships the hot sales cassava processing single machines to the warehouse on a regular basis. If its happen to have the machine you need in stock, then we can negotiate with each other and then you can directly pick up the goods.
Recommend reading:Nigerian client buy home use cassava chipper machine from Nigerian overseas warehouse
If you still have other questions about cassava processing machines and project cycle, feel free to contact Henan Jinrui company at any time. We can offer you the best technical support service and customize you the most suitable cassava processing machine!
Product
Contact
Cel/WhatsApp: +8613526615783
Phone: +86 371 5677 1822

E-mail:

market@doingmachinery.com

Address: Room 1408,14th Floor,Building 9,No.133 Yaozhai Road,Jinshui District,Zhengzhou City,Henan Province,China
Online Chat