Essential cassava flour machine for cassava flour extraction
Essential cassava flour machine for cassava flour extraction includes cassava washing machine, cassava grinder, dehydrator, flash dryer, screening machine, packaging machine. Different designs can be made according to customer's requirements. If customer want to scale up, you need to add various conveyors. The large-scale cassava flour processing machine can achieve a high degree of automation and save labor costs. It only takes 10-15 minutes to process fresh cassava into finished cassava flour.
Henan Doing has a complete set of cassava flour machine for the cassava flour production line: the cassava cleaning machine includes a dry sieve, a paddle washing machine and a peeling machine, and cassava grinding machine includes a cassava cutting machine and a cassava grinding machine. The dehydrator has a plate-frame filter press and hydraulic dehydrator, hammer crusher, flash dryer, rotary vibrating screen, packaging machine.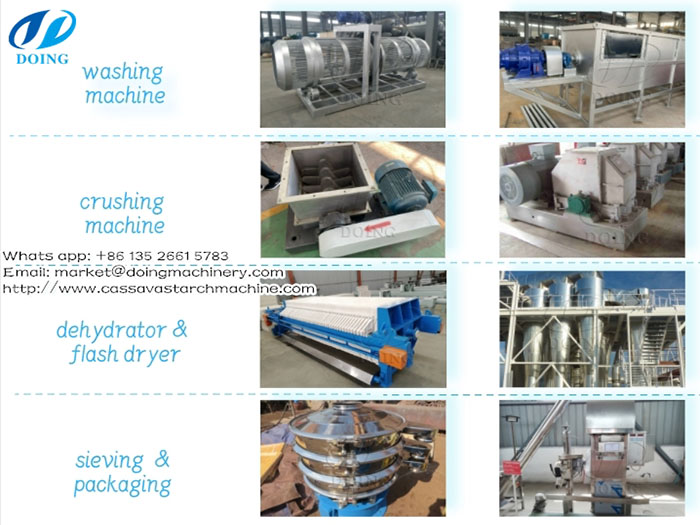 Large-scale cassava flour production line machine
If the customer wants to start on a small scale, then there is no need for a conveyor. Your cassava flour machine can start with cassava washing machine, cassava grinder and hydraulic dehydrator. The finished product from small-scale cassava flour processing equipment is wet cassava flour. If cassava flour is to be dried, it needs to be dried in the sun. Alternatively, a fixed quick dryer for cassava flour can be installed.
Small-scale essential cassava flour machine
Whether you want large-scale production or small-scale production, Henan Doing Company can design a satisfactory cassava flour production line for you according to your needs. Our cassava flour machine adopts mature European processing technology and is designed and manufactured in combination with the characteristics of cassava raw materials. The starch extraction rate can reach 94%. Our cassava flour machine is not only easy to install and operate, has a high degree of automation, which can save a lot of labor demand, but also the quality of the equipment is good, the probability of failure during work is low, and the maintenance is convenient.
Product
Contact
Cel/WhatsApp: +8613526615783
Phone: +86 371 5677 1822

E-mail:

market@doingmachinery.com

Address: Room 1408,14th Floor,Building 9,No.133 Yaozhai Road,Jinshui District,Zhengzhou City,Henan Province,China
Online Chat