The Indonesian customer buy cassava chips cutting machine from Henan DOING Company to make cassava chips
Good news! The Indonesian customer ordered 2 cassava chips cutting machine from Henan DOING Company. Today, the cassava chips cutting machine will be packed in wooden case and shipped to Indonesia.
This Indonesian customer has his own land to grow cassava. This time he ordered cassava chips cutting machine for making animal feed. Making animal feed doesn't require a very complicated process. So there is not equipped with other machines. But if you have a high demand, you can buy additional machine to improve the quality of final products.
In order to let our customers receive the cassava chips cutting machine as soon as possible, our works in DOING factory are busy in loading the cassava chips cutting machine on the truck. We ensure we can deliver the equipment on time. Besides, our workers has checked their quantities, in case some parts are missing before packing.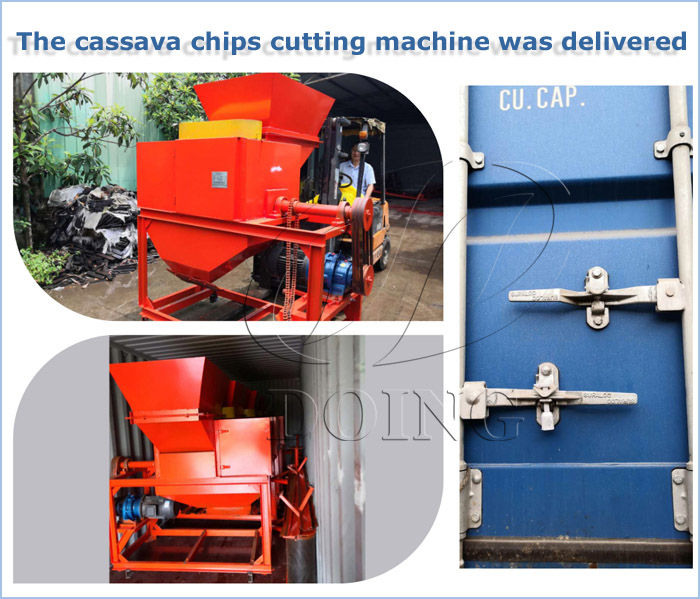 The cassava chips cutting machine was delivered to Indonesia
This customer from Indonesia is introduced to DOING company by an old client in Indonesia who had bought small scale cassava flour processing machine from DOING company 2 years ago. Now the 2 cassava chips cutting machines have loaded on the board and set sail smoothly. These machines are not only shipped far from the other side of the ocean, but also carefully Inspected and tested.
We are very glad that clients are satisfied with our machines and trust us deeply. Meanwhile, we will do our best to provide high quality cassava processing machines and better service for all customers. And we are looking forward to cooperate with you. With your consistent support and guidance we believe that we can make every details perfect. The DOING company welcomes personages of various circles to visit and discuss business!
Product
Contact
Cel/WhatsApp: +8613526615783
Phone: +86 371 5677 1822

E-mail:

market@doingmachinery.com

Address: Room 1408,14th Floor,Building 9,No.133 Yaozhai Road,Jinshui District,Zhengzhou City,Henan Province,China
Online Chat